Vikholmens P2-litter
Born 02.10.2014

2 black girls - 1 red girl - 2 black boys - 1 red boy and 1 grey boy
puppies pedigree:
inbreed% in 6 generations = 0%
Cute Black Cannibal z Kovarny
Hips AA - Elbows 00 - Eyes Clear 2012
s.r. VIOLET-LE-DUC de la Foret d'Olifan
Groenendael, HD AA
R.E. RIK de Condivicnum
Groenendael,
s.r. NAOS de Condivicnum
Tervueren, Fauve, HD A
R.e. FETEN de Condivicnum
Groenendael, HD A
R.e. NEIGE de la Foret d'Olifan
Groenendael,
JORDAN de Tiboulen de Maire
Groenendael,
s.r. Ch. HOLIFANE de Kénatier
Groenendael, HD A
s.Ch. PERFECTLY UNIQUE z Kovárny
Tervueren, Fauve, HD AA- ED 0/0
p.E. JUVELL ORNA van Moned
Tervueren, Fauve, HD AA
p.E. NASH du Bois du Tót
Tervueren, Fauve, HD A
p.E. ORPHEE van de Schagerwaard
Tervueren, Fauve, HD B)
s.r. s. T.s. Int.Ch. UNIQUE ELEANOR z Kovárny Tervueren, HD AA - ED 0/0
R.E. Ch. GOUROU du Crépuscule des Loups
Tervueren, Fauve, OFA Excellent (HD A), ED 0/0)
Ch. ELEANOR z Kovárny
Tervueren, Fauve, HD C - ED 0/0
C.I.E. INTCH NUCH DKCH JWW-2010 DKW-11 NW-11 Nordic W-11 BISS x 5 Crufts qualified 2012-2014 2.best at Crufts 2013
Dustin Dream av Vikholmen

N.E.Club Winner -07 Victory De Condivicnum HD AA

Dutch Lux Fr Ger Champion Elite A Bundessieger-04 S.r. Bentho ibn Greco de Bruine Buck
r.e. Greco de la Grande Lande HD AA
Elite A R.e. Kim de Bruine Buck
S.r. Palmyre de la Tangi Morgane
Elite A Master-Blaster de Condivicnum
S.r. Linka des Corons d'Ancenis
Nuch Dkch NBFK W-08 KBHV-08 SV-07 NV-07 SV-09 FINV-09

A-Te-Ell's Madame Yatzie

HD AA ED 00 - Eyes Clear

Holl CH. p.E Brendo De Bruine Buck HD AA
s.r. CH
Rival de la Fureur du Crépuscule HD AA
Elite B Ginger de Bruine Buck HD AB
BISS SV-05 SV-06 A-Te-Ell's Madame Sibelle HD AA ED 00
NUch DKUch s.r. LP POLch POLW-00
EUW-00 EUjW-99
Greco Comme un Reve Noir HD AA
s.r. RA Bsg-00
Chili van't Belgisch Schoon HD AA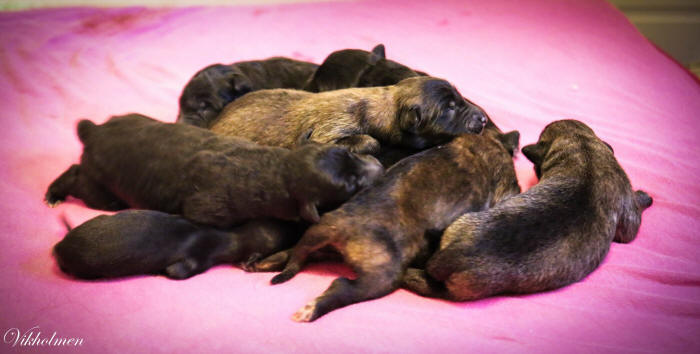 Names
Cute Black Cannibal z Kovarny is a very nice male, with an exciting pedigree.
Super temperament - 6 x CAC - 2 x CAC at special show - BIG 1 - BIG 3 - Crufts qualified 2012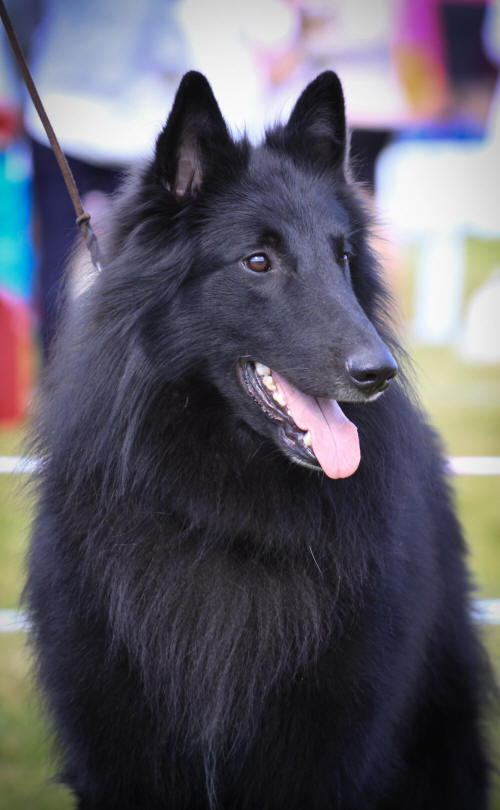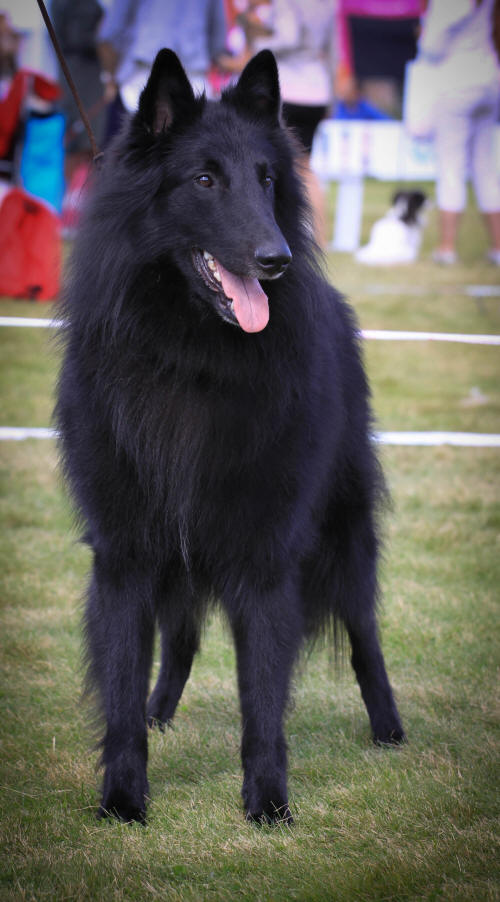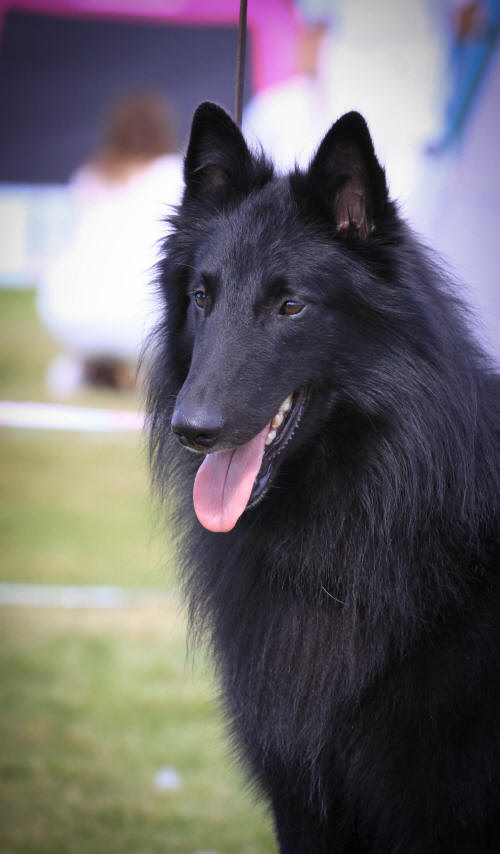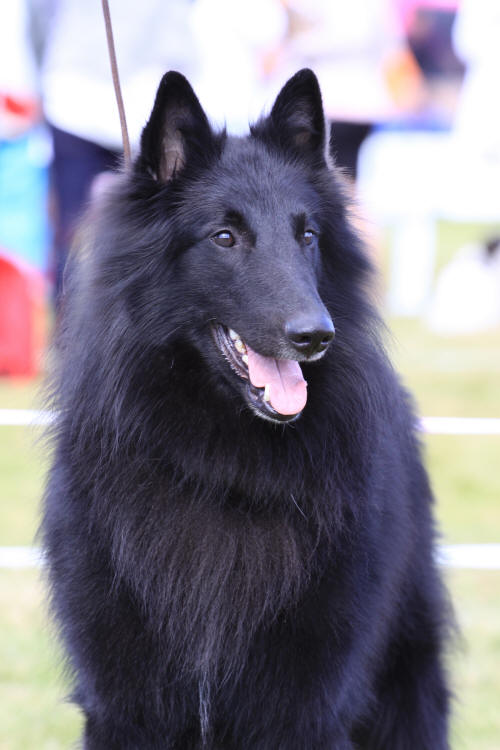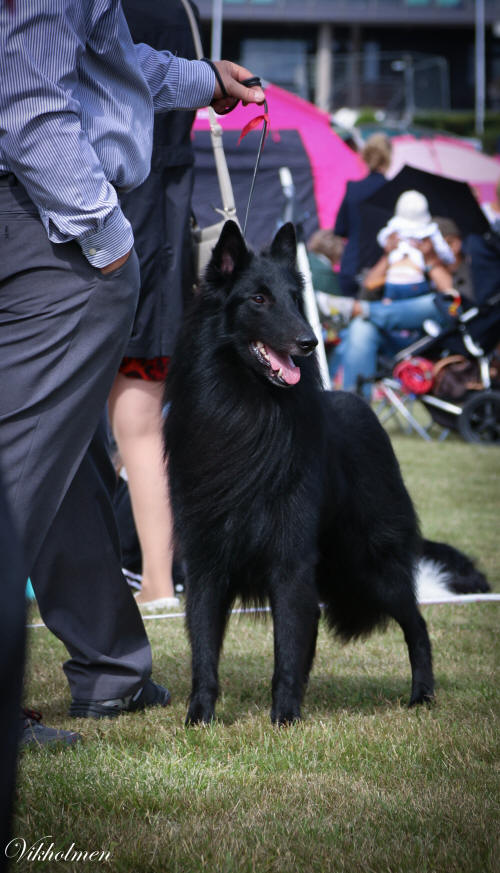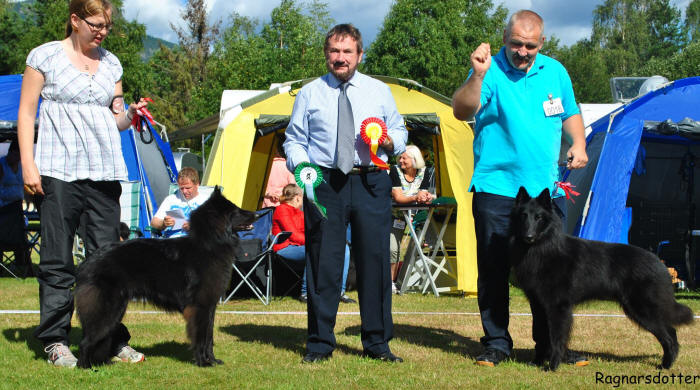 BOB - BIG Cute Black Cannibal - BOS: Kick Start Karma av Vikholmen :-)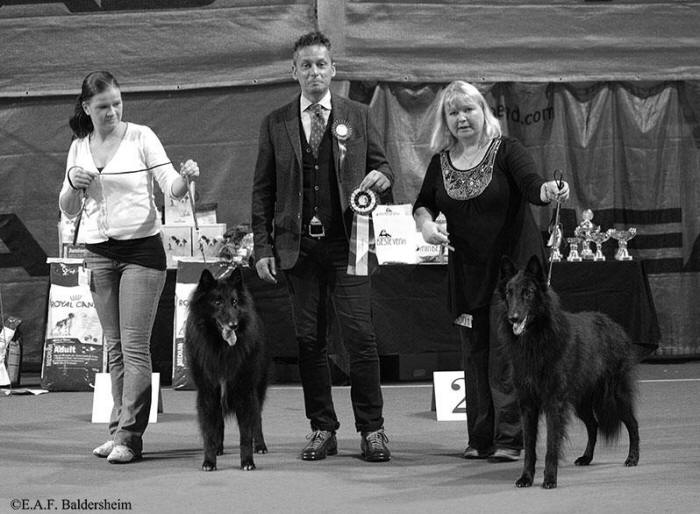 Cute Black Cannibal z Kovarny CAC and 2.best male at NBFK special show 09.12
12 months :-)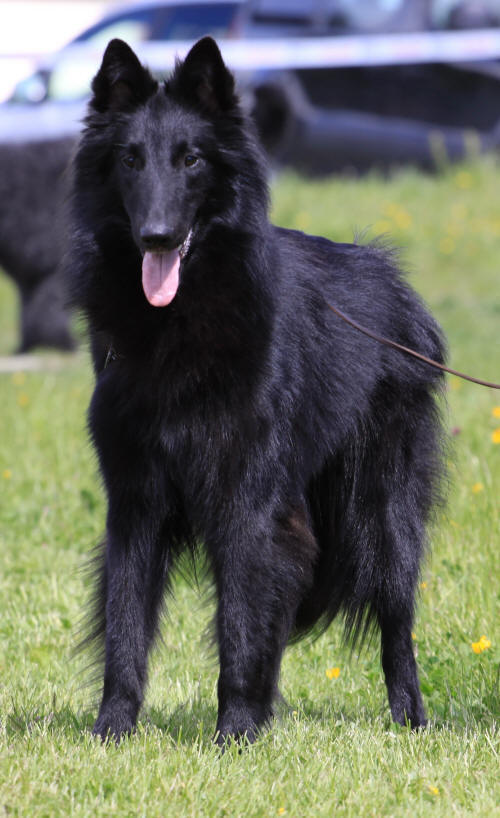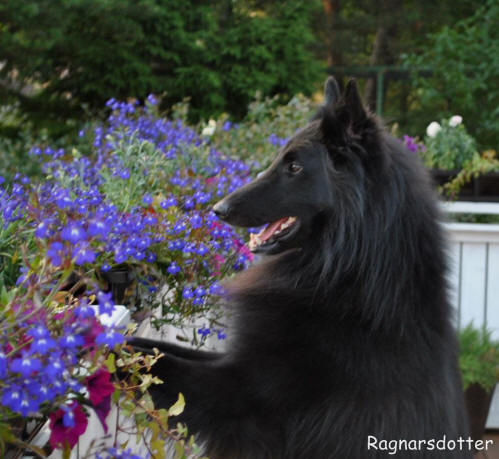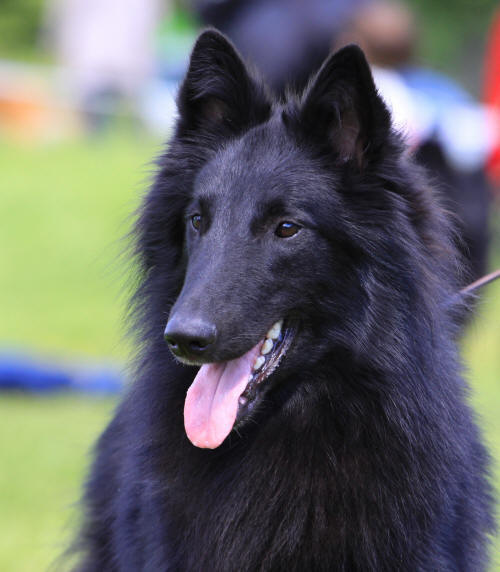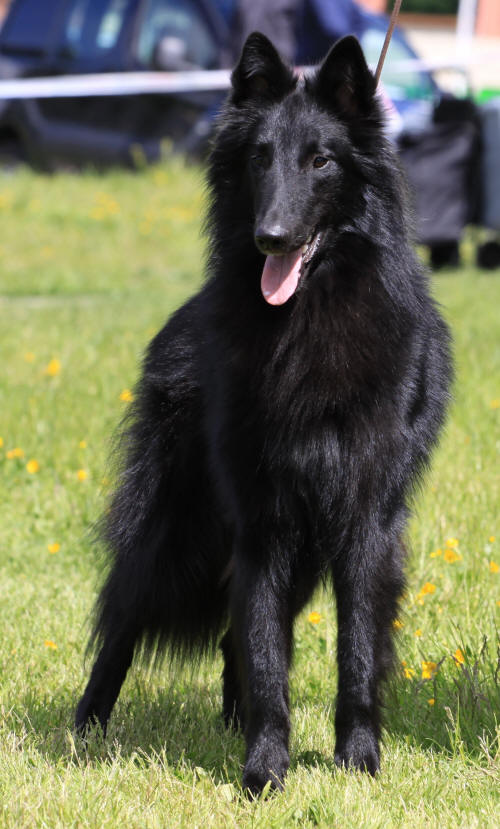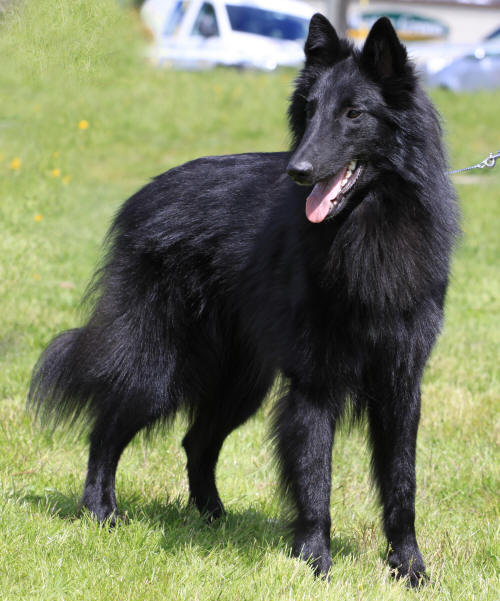 Puppies from Dustin Drams av Vikholmen previous litter :-)
Pictures from her last litter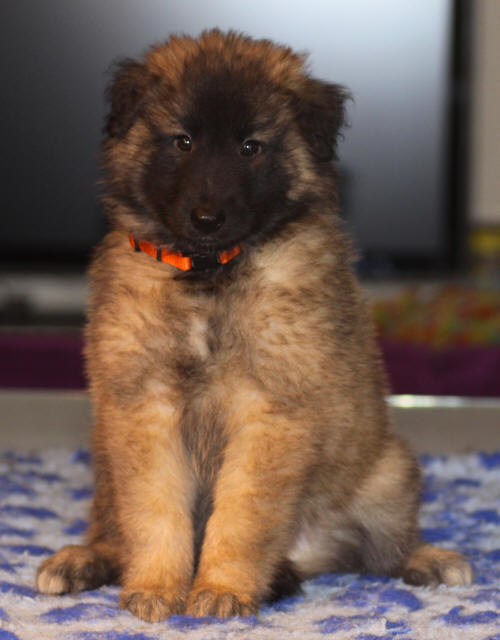 I have been looking for a male for Dustin for a very long time. Her last litter was so nice, both in character and looks, and two of her children are already
Champions in Canada and in the US - very proud of them all :-) I always look for pedigrees that will be new and intersting,
and that is really not an easy task - but then I found it in our own Cute Black Cannibal z Kovarny :-)
I planned to use him later, but I think it will be right for him now.
His pedigree is very interesting I think, and will certainly bring some new things to my Groenendael line.
I have always loved Juvell Orna van Moned, and now I have a chance to get it in my black ones :-) Juuuhuuu!
Cute Black Cannibal is a male who has needed some time to develop, but now I really think he is maturing into a great dog.
He has the sweetest temperament, and is kind to both other dogs as well as all kinds of people :-)
He has a well built body, dark eyes, excellent pigmentation, and with a very typical expression.

Dustin is a very successfull female, and are also from one of the most succesfull females in Norway: A-Te-Ell's Madame Yatzie
Dustin is winner of many prestigeous shows judged by most respected breed specialists over the world,
include title of several BIS from club shows,
Dustin is a female of excellent size and nice bones, very nice body and angulation, but her best quality is her head.
The head, which has been adored by many well respected judges and which preserved excellent paralel lines,
flat forehead, good small stop, straight muzzle and excellent chiselling, as well as nice volume of muzzle
include strong lower jaw. She is very friendly and open, easygoing dog,

We expect big and strong puppies, but still elegant, both Tervueren and Groenendael, with nice ears, dark eyes and excellent pigmentation.
We expect nice temperament, friendly characters with good preydrive, well suitable for any sport with dogs. We are looking for active owners.