At our house the dogs are considered real family members, and they get very spoiled..... They are in our bed and sofa -and I have to say - We love it :-) - We try to raise our puppies in the same manner - except they aren't allowed to go in the bed.... In our opinion the puppies are supposed to grow up inside the house as the rest of our dogs - because of this we don't have any dog yards.
I am educated as a NKK instructor in obedience and Agility
I have been in the board of Norwegian Belgian Shepherd Club (avd. Hordaland), with several duties for many years (17) - and also on the board of the Norwegian Collieclubb .(avd Vestlandet). For many years I was President of breeding commitee at the main club NBFK in Norway
I have attended a lot of seminars and classes that the Norwegian Kennel Klub has offered in genetics, breeding and how to understand the dog and genetics....I love to educate myself - and in my opinion I am never finished with my education in dogs :-) There are always something new to learn, and it is wise to listen to people that knows more than I do. I read a lot about dogs, and it is also very exciting to see what happens in the world when it comes to dogs and genetics
I am a Special Nurse (reg. Operationg room Nurse) , and has worked for many years at the main hospital in Bergen Haukeland University Hospital as that, from 2020 I became Head of Health department at Sandsli. Our breeding is very important to us and we use most of our free time with the dogs. I always want to keep more puppies, but since I am of the opinion that each and every dog of ours has a right to a rich life, we only have three dogs at home.
All my life I have had a dog, and I can't live without one I think... The walks in the forest gives me much peace of mind,. I am training tracking with our Groenendael - and Yatzie gained the title Wild Game Champion some years ago - very proud of her and me :-) and earlier I did a bit of Agility with our Collie. Dog shows take a lot of time also - so we are often to see in shows around the country
In our breeding we set focus on stabile dogs with good temperament. They have to function well in a family and be healthy. If we are so lucky that our puppies are beautiful as well - then we have achieved our top goal :-) We only breed on excellent dogs that are good representatives for their breed
All in all we do our best that all of these thing are fulfilled in our puppies :-)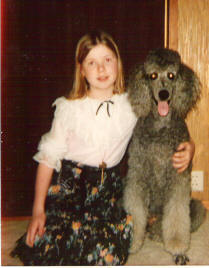 This is me and my first dog (Katinka) Mayonly Silver Sweet and Gentle in 1979
Silver Poodle Standard