Import from Sweden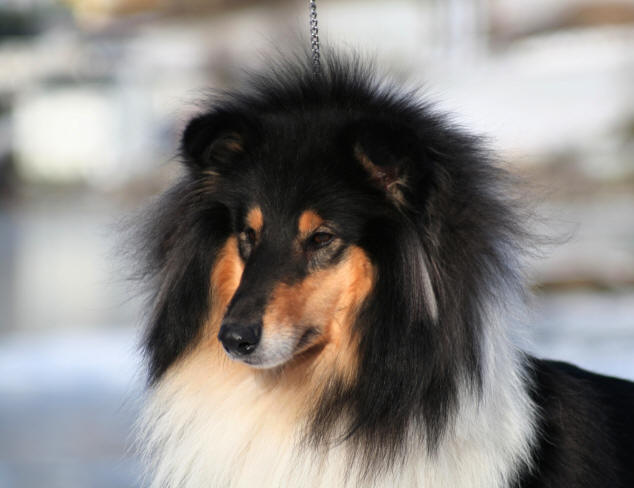 Steadwyn Fashion's Black Witch "Malin"
CEA/CRD free HD AA Complete scissorbite
født 01. 03 2004 2 x CERT
Malin was NCK avd.Vestlandet's best Collie female puppy in show 2004!
Malin was NCK avd. Vestlandets best Collie female adult in show 2006!
Pedigree
Bermarks Hadrian

Brilyn¨Touch Of Black


Lynaire Touch Of Frost
Lynaire Midnight Blue
Remlaw Midnight Diamond At Lynaire
Brilyn Touch Of Class
Gb Ch Brilyn Rum 'N'Black
Brilyn Painted Black
Renferns My Cherry Amour
Bhyllsacre Shades Of Gold
Gb Ch Renferns Golden Boy
Gb Ch Bhyllsacre Mia'ly-A-Dream
Renferns Whoops A Daisy
Edgemont Kaiser Of Pepperstone
Brilyn Dawn Damask
Om Malin:
Malin er en utrolig lykkelig og glad hund, hun elsker barn over alt på jord og forteller det gjerne :-)
Hun er glad i å svømme, og kommer gjerne ut i sjøen når vi andre bader. Hun går alltid løs når vi er på
tur siden hun er så snill og ikke minst er hun veldig lydig. Vi er veldig glad i henne :-)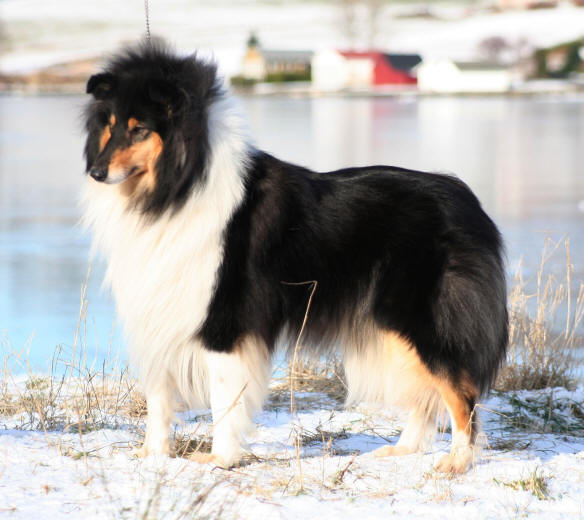 Utstillingsresultater
10.02 2008 ØEVHK Gert Christensen 1AK 1AKK CK 1BTK CERT BIM
4 år , fin størrelse . Feminint hode, saksebitt. Mørke fine øyne. Velansatte ører. Bra hals og overlinje. Bra kropp, velvinklet og bra benstamme. Beveger seg fint. Bra pels. Bra temperament.
29.04 2007 NCK Joyce Cosme 1K 6KK
Excellent quality tricolour bitch. Very well presented. Good quality head, eye pigment and earset. Good angulated front and rear. Very good coat. Moved very well showing a nice ground covering gait. Attractive feminine bitch.
28.04 2007 NSSK Stella Clark 1K 3KK CK 6BTK
Very feminine. Beautifullt presented. Pretty head and expression. Excellent coat. Good hind angulation. Good neck. Good ribs.
11.02 2007 ØEVHK Dommer Jean Lanning
1K1KK CK 2BTK
Generally very pleasing and of good type and quality. Strong hindquarters. Moving out well although toes a little in front.
19.11 2006 Nord Vinner 2006 Anne Indergaard 1AK 3VK CK 4BTK av 37 Collietisper :-)

Tric av utmerket type. Hvis største fordel er hennes sunde anatomi og parallelle bevegelser med bredde i bakparti. Vakker pels. Velpresentert
06.11 2006 FSHK Dommer Gunilla Skallmann. 1AK 2VK CK 2BTK
Feminin og mycket bra størrelse. Vennligt uttrykk. Bra neseparti. Bra hals og rygg. Tilstrekkelige vinkler. Bra pels og farge.
01.10 2006 BSBK Dommer Margareth Everton 1AK 1VK CERT 1BTK BIR
Well shaped dark eyes, clean ears, good head. Good topline and depth of body. Nice bone and feet. Good coat. Moves around the ring very well. Very nice shape and size
13.03 2005 NHHK Dommer Joe Kirk 1JK 1JKK HP 4VK
Well presented. Nice earset. Correct dention. Good neck and well set shoulders. Straight front very good rib and loin. well angulated rear. Moves ok
13.02 2005 ØEV H.klubb Dommer Vincent O'Brian 1JK 1JKK HP 5VK
Nice female type. Alert expression. Good dark eye. Flat scull. Plenty of with between ear. Scissorbite. Good muzzle. Strong topline. Must watch weight....... Moves well coming and going.
13.11 2004 FSHK Dommer var Elina Haappaniemi. Malin ble BIR og 4 BIG
8 mnd g. tricolo. meget sunn valp som viser seg vel i ringen. Meget oppmerksom. Vakkert velskapt hode, fine mørke øyne. Aningen lette øron ennå. Bra benstamme, kropp og bakben. Rør seg med sunne steg!
27.09 2004 BSBK Dommer Rodi Hubental BIR 4 BIG
M. bra utviklet med gode proporsjoner. Feminint hode. Tilstrekkelig hals. M. bra rygglinje og bryst. Gode vinkler. Beveger seg meget bra for alderen. Bra pels
20.09 2004 Os hundeklubb Dommer Christen Lang BIR 2 BIS
6 mnd gammel. Vakkert hode. God hals og overlinje. Godt bryst for alderen. En aning smal i front. Meget gode bevegelser fra siden. Parallelle bak. Prima pels. Trivelig temperament
Malin - verdens beste collie :-)
Superparet; Bente og Malin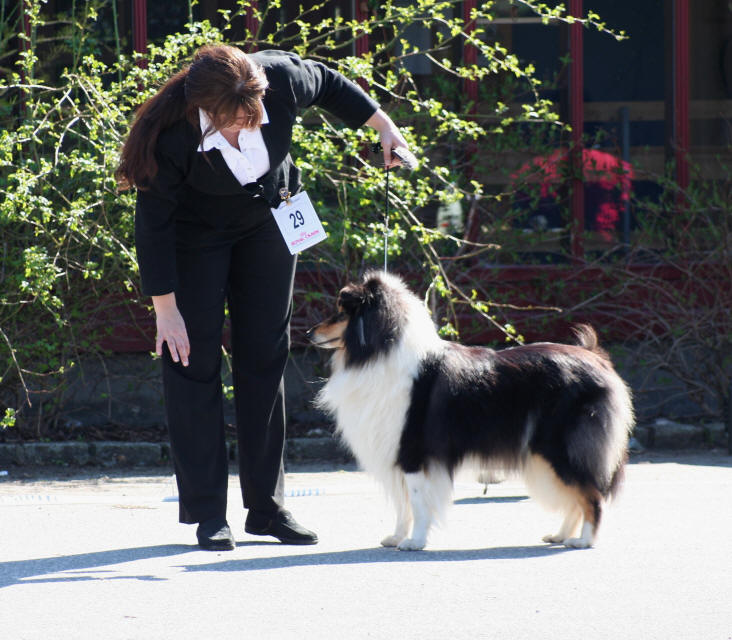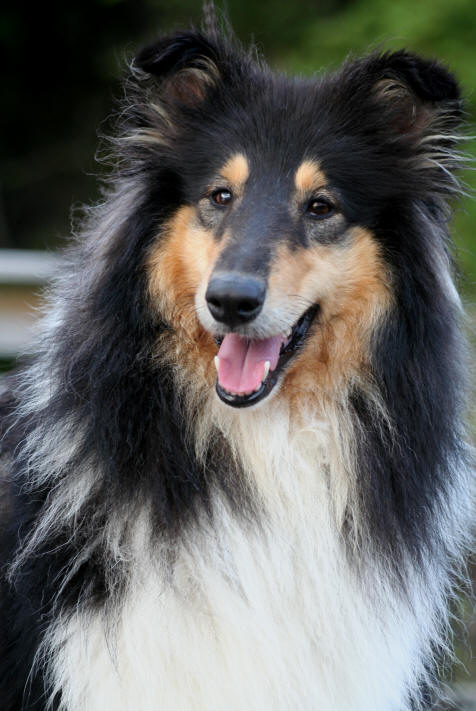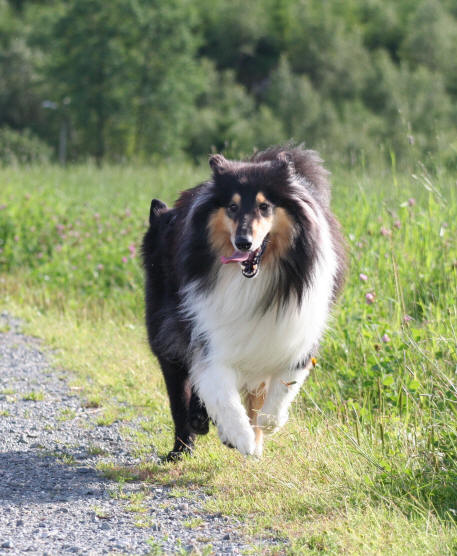 Malin og Yatzie :-)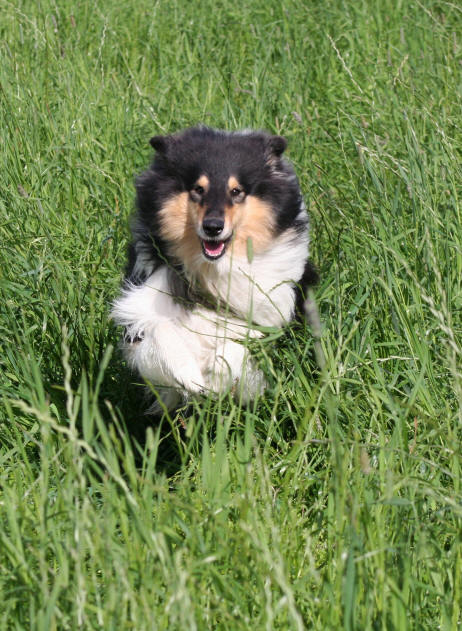 Jaaa, jeg kommer mamma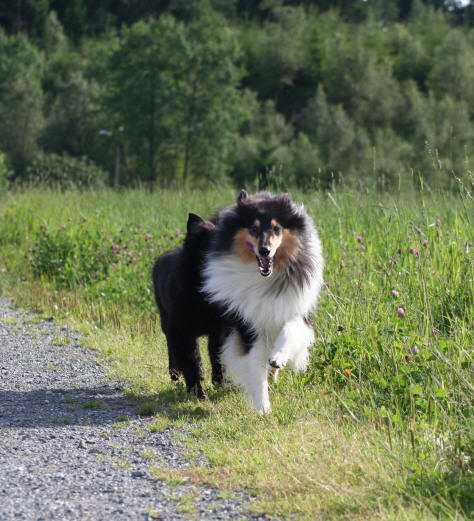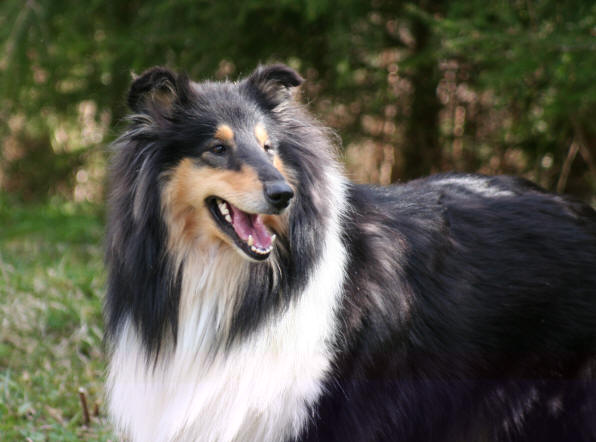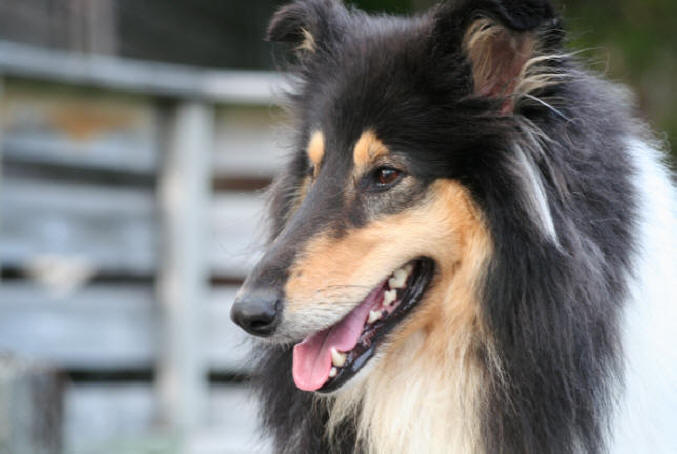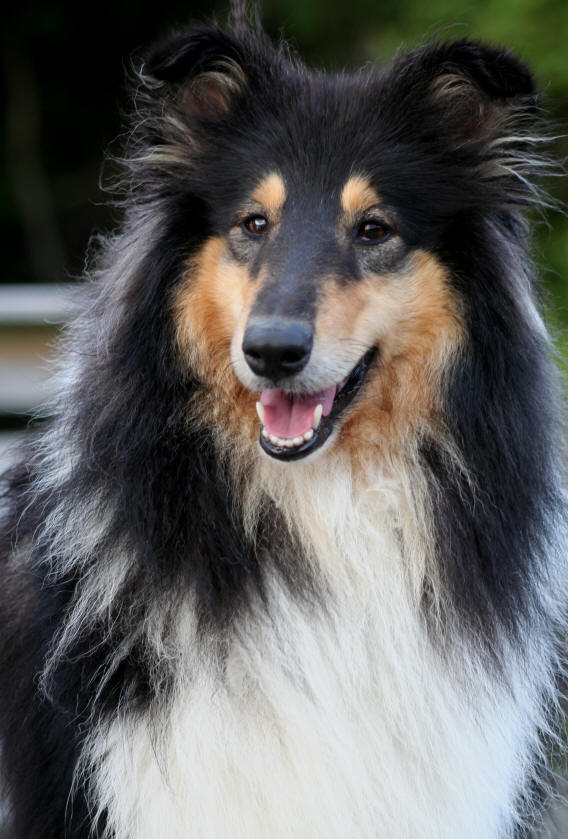 Her har Malin badet og er heeelt lykkelig :-)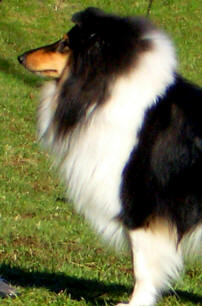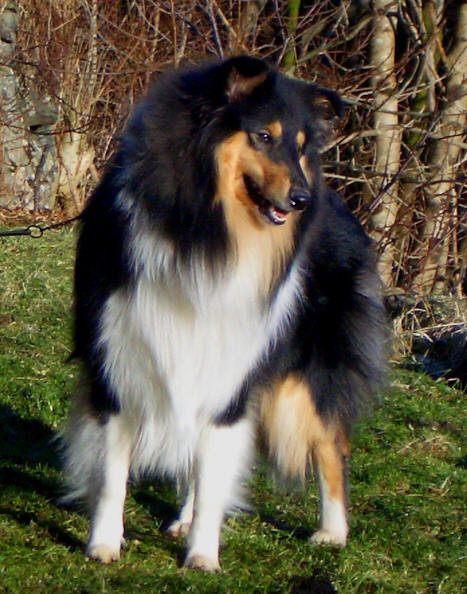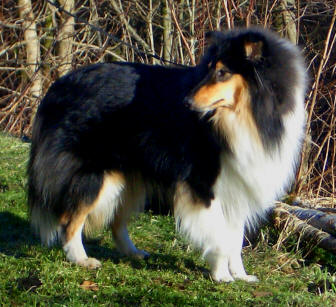 Malin 1 år på bildene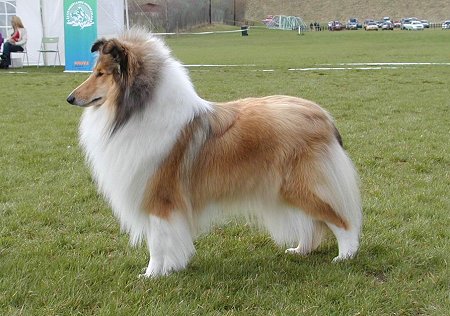 BISS Duch Steadwyn Fashion N´Passions HD og AA - A (Malins søster -eiet av kennel Steadwyn)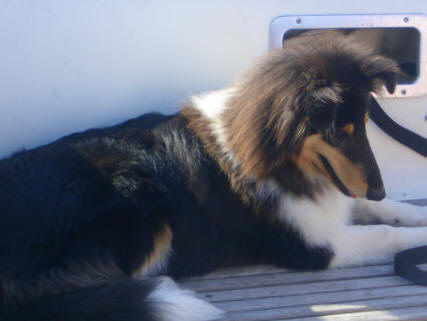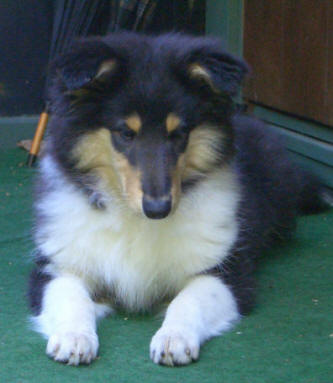 Malin 5 mnd på båttur (noe hun likte kjempegodt)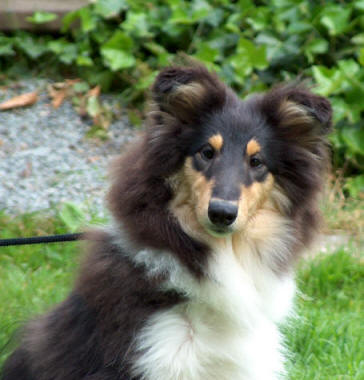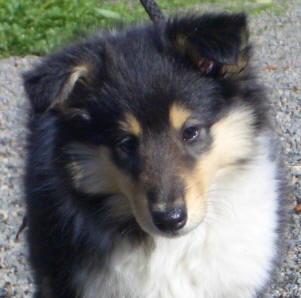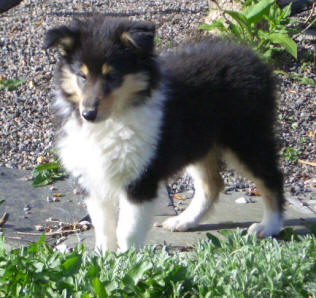 9 uker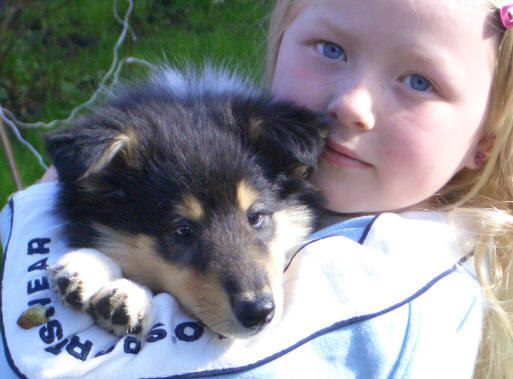 Malin og Elisabeth :-)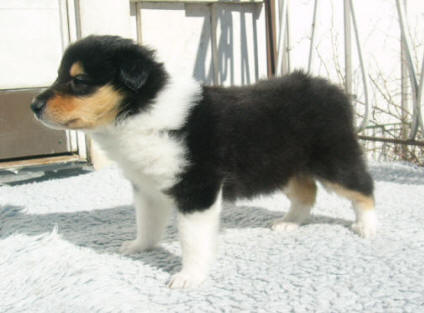 Steadwyn Fashion's Black Witch ( 4 uker )