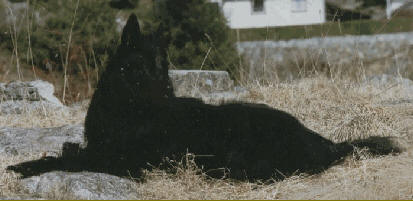 Nuch Falcon av Vikholmen

HD-fri (A) AA-fri og Ýyenlyst ua.

Pedigree

<![if !vml]>

<![endif]>
Dasgeda Feel the Force

GB CH Lance van de Hoge Laer

Int.Belg CH Grimm van de Hoge Laer

Tjes van de Hoge Laer

Frosty Flickering Flame

GBCH Gooitzen vít Belgisch Shoon

Leicote Nephrite at Frostye

Black Hawkwind H-Vickie

NUCH Fam A Damís Black Wizard

Sundowns Here I Am

A-Te-Ellís MissPretty

Nathans R-Sehra

Nuch Artist Grizzly Des Champs Du Trefle

Sonja
UTSTILLINGSRESULTATER
CERT BIR Tore Edmund
CERT BIM Leif Herman Wilberg
CERT BIR Anita Lindros
CERT BIR CHAMPION Tore Edmund
CK BIR Frances Hickey
CK BIR Mc Carthy
CK BIM Berit Foss
CK 3 CHK 4 BHK Berton Sarlat Spesialutstilling
CK CACIB BIM Kari Nylen
CK BIM Gerry Hickey
CK BIM Noreen Harris
CK BIM John Mc Manus
CK BIM Margareth Everton
BIR HP Sverige
HVA DOMMERENE MENTE OM FALCO
Tore Edmund skrev:Utmerket type. M. godt maske, hode. Godt uttrykk, stramme Ýrer, mgt pen silhuett, korr. proporsjoner, velbygget, velvinklet, mgt god beinstamme, effektive stabile bevegelser, utmerket pels, en skikkelig, real hann.
Margaret Everton skrev:Nice head with well shaped dark eyes. Well set eares. Firm front with good bone. Nice length of body. Good rear and good neck tight.
John Mc Manus skrev:Good size, very good body shape, clean maskuline head, good expression, bite corr. Good angulation, hard back, strong legs, very good movement and very good coat.
Noreen Harris skrev:Nice head and expression. Nice eyes. Good outline. Nice temperament. Nice bone. Handled well
Michael Mc. Carthy skrev: En herlig Champion. Velbygget, bra proporsjoner, vakkert uttrykk, velformet brystkasse. Beveger seg meget godt